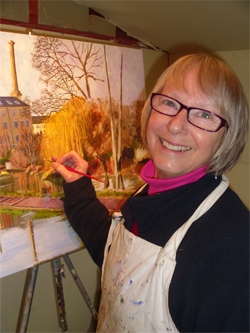 Hi there
Thank you for looking at my website.
I have always painted and encouraged by my mother, (who was an embroiderer by profession), I spent years working with fabrics in needlepoint, patchwork, appliqué, wall-hangings, dressmaking and soft furnishings.
I finally fulfilled my ambition to become a professional painter at the age of 51. By then my three children had all flown the nest and I moved with my husband Peter to a chocolate-box cottage in the Cotswolds. We now have six grandchildren.
I have attended still-life master classes with Sue Wales at her studio in Bath and furthermore I am mentored by my sister Fran Slade and her husband Colin, a former Master of the Fine Art Guild.
I have worked on commissions in pen & ink, acrylic and watercolour although my preferred medium is oil where the ability to use the drama of light and dark gives me the freedom to express light, colour and form.
I hold my own annual exhibitions each year, formerly when we were in Stroud and now in Petersfield, Hampshire. I have exhibited at Open Studios, Faith in Art, and at an artist's gallery at New Wine. I have paintings in France, Spain, Egypt, Australia, Canada and the USA. I was featured in articles in Stroud Life, in Artists & Illustrators magazine, and in Katie Fforde's book 'Wedding Season'.
We moved to Petersfield to be nearer our grandchildren and more have become part of the village of Sheet where so much goes on that we love.
Christine